There are several reasons why companies offer staff benefits. However, from my many years of HR experience, I believe that company benefits need to be relevant, engaging and enhancing. A lot of companies keep theirs under wraps. But at AS&K, we're extremely proud of the benefits we provide.
We understand that our people are unique and that no off-the-shelf benefits package would support and enhance their journey. So, when it came to deciding what benefits to offer, we asked, we discussed and we listened, and then we matched our benefits to what our people really want.
Most of our benefits have company-wide appeal, such as the annual performance-related bonus, which ensures that we're all working as one and moving forward together, the private medical insurance, our group income protection scheme and our enhanced pension offering.
We understand the importance of the physical and mental wellbeing of our people, and our extensive wellbeing program supports them how and when they want. We have a Working & Wellbeing initiative that encourages flexibility and consideration. Our Employee Assistance Program offers confidential and independent advice. Our Mental Health Champions provide in-house support. And for those who enjoy meditation, we have partnered with HeadSpace.
And then there are the benefits that appeal to some more than others, but represent our company ethos, such as our enhanced Family Friendly Initiative.
Our benefits aren't all standard. We provide membership to PerkBox, an extensive benefits platform, and MyEva, a financial advice platform. Our annual leave offers up to 30 days in the UK and 25 in the US, and our offices close over the Christmas to New Year week.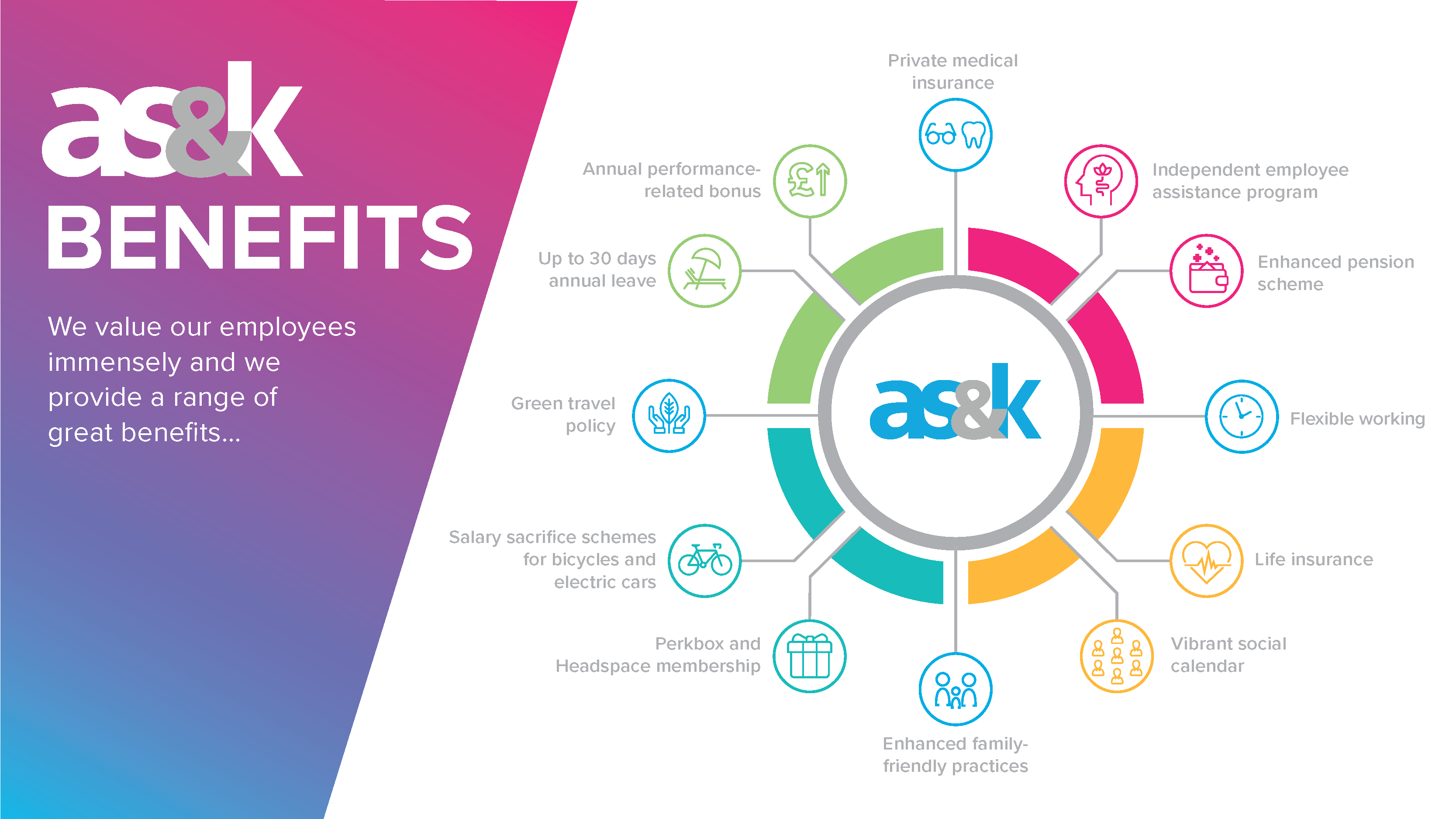 We have set ambitious emissions reduction goals using the Science Based Target initiative's (SBTi) framework, and now that travel is back on the cards, people are taking advantage of our sustainable travel policy, Climate Perks offering reimbursed holidays for traveling sustainably, and our salary sacrifice scheme for electric cars. Speaking of salary sacrifice schemes, the Cycle2Work initiative has been in practice for some time and many of our people have taken advantage of it. We're now looking into the use of rental bikes and electric scooters!
And though not strictly part of our 'Benefits' offering, our company social calendar is chock full of activities, from bake-offs to book club, quizzes to cracking parties!
So, whether you're looking for a decent gym membership rate, an android phone rather than an iPhone, or simply a supportive, stimulating and engaging work environment, our benefits package proves there is something for everyone at AS&K Group! Which is one reason why 90% of our people say they would recommend working here to a friend. And if they do, we have a benefit for that! We offer a very generous recruitment incentive which they can pocket or share with our new colleague!
If you'd like to work for a company that values their staff and offers a great range of benefits, please contact Talent Acquisition Partner, Amy.Bremner@asandk.com, or visit our Join Us page to view available opportunities.
#greatplacetowork #nowhiring