As a company, we've changed our approach to travel.
Working in an industry that favors face-to-face meetings for effective scientific exchange, train travel, wherever feasible, is one way in which the AS&K group is reducing its environmental impact. And it's one reason why we were recognized as one of Europe's Climate Leaders 2022 by the Financial Times.
But what are some of the hidden benefits of traveling 'green' and how can we maximize time efficiencies? Here are some AS&K insights from a recent trip to Switzerland, which may help sceptics to embrace the change.
1. Put your actions into a real-world context
It's very easy to focus on the time inconvenience. Get a better sense of the impact of your actions by putting them into a real-world context. For our recent trip to Basel, CO2 emissions when travelling by train were just 4kg per person – equivalent to lighting the Eiffel Tower for just 1 hour. The same journey via airplane would have produced carbon emissions 44x times greater, or 2 days' worth of Eiffel Tower illumination. That's a significant difference for an extra few hours' travel.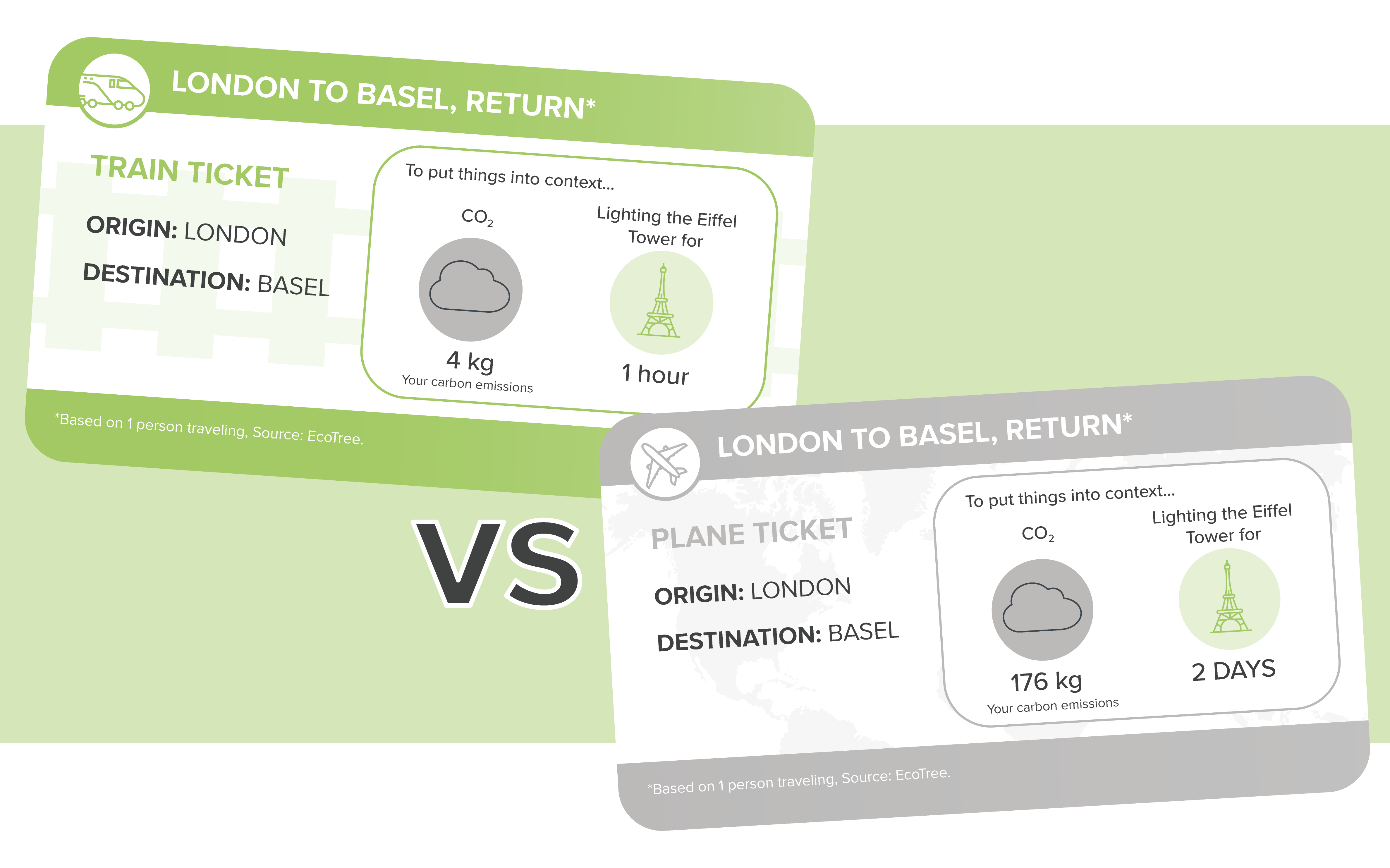 2. Know the impact of your actions on others
"I should be doing more of that." KOLs and friends alike had a similar reaction. Apart from a great ice breaker, you're also challenging the status quo. In an industry that defaults to flights, our actions were inspiring self-reflection.
Could we have achieved what we needed via a Zoom/Teams call? In truth, no. Face-to-face meetings provide a more conducive and focused environment for scientific exchange and purposeful discussion. We were able to really drive a project forward and grow a working partnership.
3. Embrace the greater freedom
Train travel is more relaxed than air travel. Check-in and customs are quicker, the seats and tables are bigger, it's an easier and more pleasant work environment and your journey is likely to start and end in the heart of the city rather than a taxi-drive away. Add to that an increase in the proportion of effective work to travel time. By this, we mean that from the moment you board a train to the moment you alight, you can work >90% of the time. For short flights, rules around taxiing, take-off, landing, turbulence, etc., reduce the proportion of effective work to travel time to around 50%.
Where the benefit of train travel really excels is group work. Seating arrangements allow for greater team collaboration – to run through a slide deck, align on meeting objectives or brainstorm the next big thing. Just make sure you don't book seats in a designated quiet carriage.
4. Be prepared
Save in advance a local copy of any work you'll need. While there is free Wi-Fi on the trains, it is a public network and can sometimes be unreliable. If you do plan on connecting to the Wi-Fi, use a VPN to provide a secure network. And if working from a cloud-based document, we suggest turning off your Wi-Fi and letting the document sync once you have access to a more reliable and secure network.
Power outlets are not always obvious nor suitable for larger adaptors. Keep your laptop battery topped up whenever possible and change your power mode to optimize battery life.
5. Did we mention the scenery?
Something needed to be said about traveling through the beautiful countryside of France as you head into Switzerland. Overall, it's a wonder we haven't taken advantage of train travel more.
For your next meeting or conference, consider traveling 'green'. And when you do, sit back (maybe take advantage of the bar cart) and feel reassured that your actions are having a positive impact wider than you may think.
Interested in how AS&K can help your medical communications be 'greener'? Contact Alana Zdinak, member of our Climate Charter, for a consultation at alana.zdinak@asandk.com today.